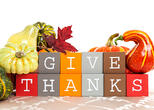 Many of us use the holiday season to reflect upon the activities of the past year. Personally, I enjoy doing this while contemplating what the future may hold for me, my family, my friends, and my company. The Thanksgiving holiday, in particular, is a great reminder to take into account all of life's blessings as part of that process.
This year has been an interesting one for Inovatia. There have been some great achievements and some set-backs - some great situations and some less than ideal - and, some rewarding challenges and some that served as lessons only. However, during these ups and downs and shifts and sways, we have remained focused on our mission to provide high quality, cost-effective analytical services to our customers. Further, we continued our focus on our goals for the company and those we hold for our employees, clients, and vendors. The activities of this year have moved us into a position to make great progress toward furthering those goals in 2012. With all of this in mind, it makes it easy to look at what has gone well and express our thanks to those who have helped us along the way. I will not be able to list everyone, but here are a few that are top-of-mind:
Thank you to our families for providing unrelenting support and advice over the long-haul.

Thank you to our employees for choosing to spend a significant part of their lives being dedicated to our mission and doing what we do.

Thank you to our clients for entrusting us with your work and teaching us how to best serve you.

Thank you to our vendors who provide great products, great service, and outstanding technical support - all while being mindful of cost.

Finally, thank you to our trusted advisors (friends, mentors, consultants, bankers, lawers, and accountants) who provide expert advice, guidance, and support in both lean and rich times. It is an honor to be associated with all of you.
Have a safe and happy Thanksgiving holiday, everyone.